Happy Friday bookish friends!
Amanda and I are continuing Contemporary January by bringing you some of our favorite Realistic Fiction books. We both love books that deal with tough topics and today we're both going to give you a rundown of some of our favorites and why we think they belong on your TBR!
Check out Amanda's post HERE. 
Let's dive in!
---
Realistic Fiction Recommendations
First up, and this should come as no surprise to anyone since this is my favorite book EVER, Looking for Alaska. This book found me during one of the lowest points of my life after I was dealing with someone very close to me being killed. It talks about life, death, grief, and how to keep going when you feel so incredibly stuck.
I recently finished How She Died, How I Lived and absolutely adored this book. This deals with grief, survivor's guilt, rape culture, and makes you think about tough topics like how much justice is enough when someone is brutally murdered. I HIGHLY recommend this book to anyone and everyone.
You can find my review HERE.
Always Forever Maybe is a book that I read back in 2018 and still think about all the time. It tackles physical and emotional abuse and how toxic first love can sometimes become. It also features an amazing friendship between two young girls!
You can find my review HERE.
It Ends With Us is my favorite CoHo book and I honestly don't think that will ever change. This one also tackles physical and emotional abuse, but the ending of this one packs the biggest punch I've ever received from a book. Two years later and I'm still not over it!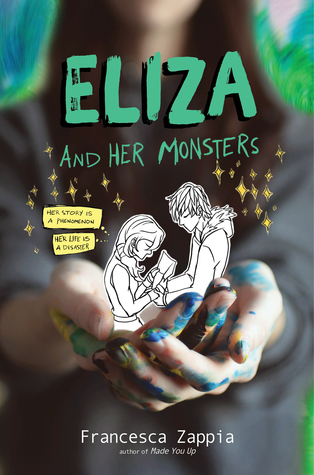 Eliza and Her Monsters has the best anxiety rep I've read in a book so far. This book also deals with suicidal thoughts, depression, and a lot of other topics pertaining to mental health. Plus, this book also spotlights how internet friends are extremely valid!
This book, God, this book right here, hurts so bad. This is the toughest book I've read so far about rape. It follows a young girl who is raped by her brother's best friend and follows her downward spiral from freshmen to senior year as she struggles with internalizing what happened to her. If you are a fan of the movie Thirteen then chances are you will love this book.
I was extremely surprised by this book. I thought that this was a love story but it turned out to be so much more. While Eleanor & Park do fall in love this is also a story about surviving an abusive step-father and bullying in school.
Sadie, was a tough pill to swallow. There are so many trigger warnings attached to this book but it was such an amazing and heavy read. Plus, the ending absolutely destroyed my soul and I don't think I will ever be over it.
My review can be found HERE.
A Very Large Expanse of Sea was one of the most thought-provoking reads I've ever read and will easily go down as one of my all-time favorites. This story follows a young Muslim girl post 9/11 who is dealing with racism, xenophobia, and first love all at one time. As a white female who has never once experienced any of the blatant hate Shirin receives this was such an eye opening read.
My review can be found HERE.
This book made me want to scream until my throat was raw. It made me so angry, and upset but it is so incredibly powerful. When's Mara's twin brother rapes her best friend, Mara is placed in an extremely difficult situation. It also brings back unwanted memories of Mara's sexual assault that she has kept hidden for too long.
My review can be found HERE.
Brave Enough is a character driven novel that follows a young girl who is trying to piece together her life after a devastating cancer diagnosis. She begins to find comfort in a young boy who happens to be a cancer survivor but is also dealing with his drug addiction.  This was so much more than just your everyday romance novel.
My review can be found HERE.
And that my friends, are my favorite heaviest reads! Have you any read of these? What are some of your favorites?! I'm always on the hunt for a new read about tough topics so any recommendations are always welcome.
That's all for today!
Until next time,